---
Traditional Marketing Is Not Dead, But It Is Dying – Marketing Magic Tips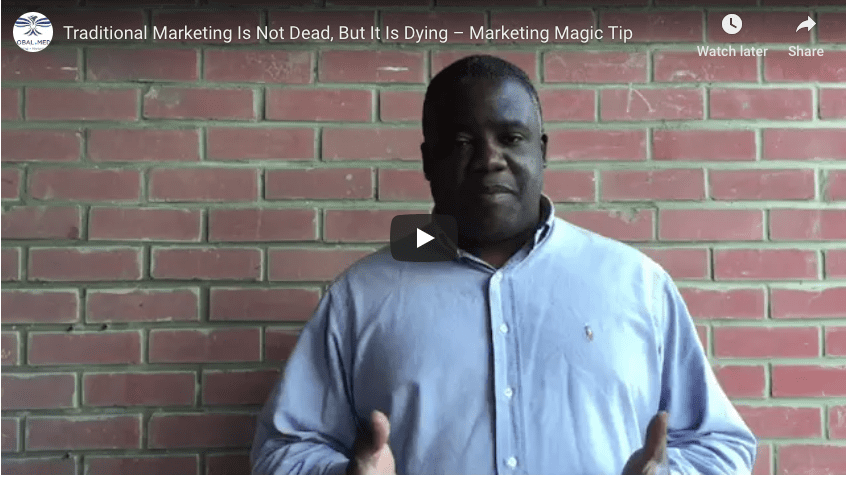 31st March 2019
No Comments
2815
Traditional Marketing Is Not Dead, But It Is Dying – Marketing Magic Tips
Look up and down the land, and you will find that many successful businesses are still investing in offline marketing strategies. What's more, they are getting plenty of sales too. At the other extreme businesses are throwing all of their marketing investment into online marketing with social media and pay-per-click ads dominating the landscape. What is the right marketing strategy for your business? After all, you don't want to waste your hard-earned money on marketing that is dead. Read on to find out why traditional marketing is far from dead. You will also find out why businesses cannot rely on just one marketing technique to achieve their business objectives.
Marketing matters
The need for customers is the common link among all ambitious companies because selling to customers is the surest way to generate revenues, profits and hopefully growth. Any experienced business owner will tell you that customers do not just appear by magic. Clients come from marketing – a process of your business reaching out and attracting prospects – people who are interested in buying your products and services.
In an ideal world, we would sell to everyone who shows interest in our products and services. However, that never happens. Instead, your company must work away at converting as many of the prospects we get into clients as possible. The effectiveness of your conversion strategy influences the amount of marketing your business must do to generate sufficient interested buyers. Only by converting enough interested people will you achieve your target and objectives.
The digital revolution has spawned a massive shift in how businesses market themselves to their target audiences. Nonetheless, the marketing goal for companies is to find the right strategies to make yourself well-known and credible to people who want to buy from you. In short, we must all answer the question: 'how will you make yourself famous to potential customers?'
Choosing online versus offline
Many pundits will tell you that only modern marketing strategies work. They will seek to deter you from the 'old ways' of marketing in favour of social media, search ads, video ads, content marketing, SEO and the likes. By implication focusing exclusively on digital marketing assumes that everything businesses were doing before the Internet came along is obsolete and thus not worth wasting your time or investment. They say to assume makes an 'ass' out of 'u' & 'me' for a reason.
You only have to search for the dire news of the demise of the high street and the closure of many of the traditional retail giants to get some evidence that even tried and trusted methods like footfall alone is not enough to build a business.
Well, let me tell you that as a marketing agency that invests heavily in digital marketing like social media, LinkedIn Lead generation and email marketing and ads, even we cannot afford to rely exclusively on either online or offline marketing strategy. Similarly, we encourage our clients to explore a mix to become famous and reach their target audience.
So which traditional marketing work?
Offline marketing that sells
Let's examine the evidence that proves traditional marketing is still alive and often thriving by looking at advocates for the different techniques available.
Other offline marketing methods worth thinking about include location-based billboards and merchandising. As is evident, the old marketing strategies have a place even in today's digital marketplace.
The role and future of marketing is online
Believe it or not, there are still many businesses that do not have an online presence today. Yes, read that again. I am always tempted to want to believe that their marketing approach comes from their having found a highly effective marketing strategy that they do not need lots more clients. In reality, businesses that are not taking advantage of the Internet are taking a massive risk that threatens the existence of their business. I can say this with confidence because the future of marketing and information is ultimately online. I tend to agree with Jayson Demyers that "once the Internet is truly everywhere, with no concept of connection, traditional advertising is going to die eventually".
Much like we will never go back to travelling around on horseback now we can buy cars for transportation, so it is that social media and internet marketing is not going to go away and all businesses, wherever you are, jump on board to survive and grow going forward. Let's be clear; there is nothing in traditional marketing that can replicate the benefits of online marketing in terms of the ability to get massive yet targeted reach, personalised messages, measurable results, ability to interact with prospects in real time, the facility for fast two-way responses and cost control.
The question is not online versus traditional marketing. The right problem is which mix of online and offline strategies are right for your company to reach and engage your target audience?
Why you need a complete marketing mix
The few high street retailers that are still surviving have learnt the lesson and swallowed the bitter pill of the right marketing strategies for today's marketplace. They have embraced online marketing to compliment their high street presence. The businesses that resisted the apparent need to mix their online and offline strategies are either already in liquidation or fast heading in that direction
The retailers that will thrive and continue to survive for another fifty years will have to prioritise their online presence and work out how to make offering engaging and attractive to their target customers. The same is true for small and medium businesses that may be making money today using mostly traditional marketing. The inevitable truth is that your customers are looking for your services online right now. They won't find you if you are not online or doing online marketing correctly. So they will see your competitors and buy from them instead.
Ignoring the online marketplace today presents an even more significant hurdle to businesses – new competitors on the market that learn how to capitalise on the digital space will overtake your company before you realise they exist. Do your business a favour and devise a market strategy that contains components of a complete marketing mix involving online and traditional marketing.
Bringing it all together
Getting your business in front of your target audience has always been challenging, and entrepreneurs have always had to make difficult choices about the best way to build their client base. While the marketing objective and many of the principles remain the same, you cannot ignore that the world has changed and your customers are now looking for your products and services online. Are you going to get in front of them and try to reach the few low hanging fruits that currently exist with a complete marketing mix?
*********************************************************************************************************************
Global.Media provides expert online and offline advertising, and marketing on all digital platforms to get qualified leads for businesses. Check out our Services page to see how our advertising and marketing services can help your business to get more customers and sell more, faster. Why not sign up for our newsletter using the simple form on the right? You can also follow us on social networks. Finally, we'd love for you to share this post with your network using the share buttons below.
********************************************************************************************************************
We'd love to have your feedback and suggestions about this post. What is your experience of doing traditional marketing? What were the priorities in your decision to choose offline marketing methods? Pease leave your comments in the Comments Section below.
Other posts you may like
–
Our Digital Marketing Services:
Website Design | Search Engine Optimisation (SEO)| LinkedIn Marketing | Content Marketing| Email Marketing| Pay-Per- Click| Social Media Marketing|   App Development & Marketing| Business podcasts | Video marketing
HOME | ABOUT  | MaAD BLOG | PODCASTS | TESTIMONIALS
Download Our Mobile App to listen to our podcasts on the go 
Get Mobile App