---
How to use new LinkedIn Campaign Manager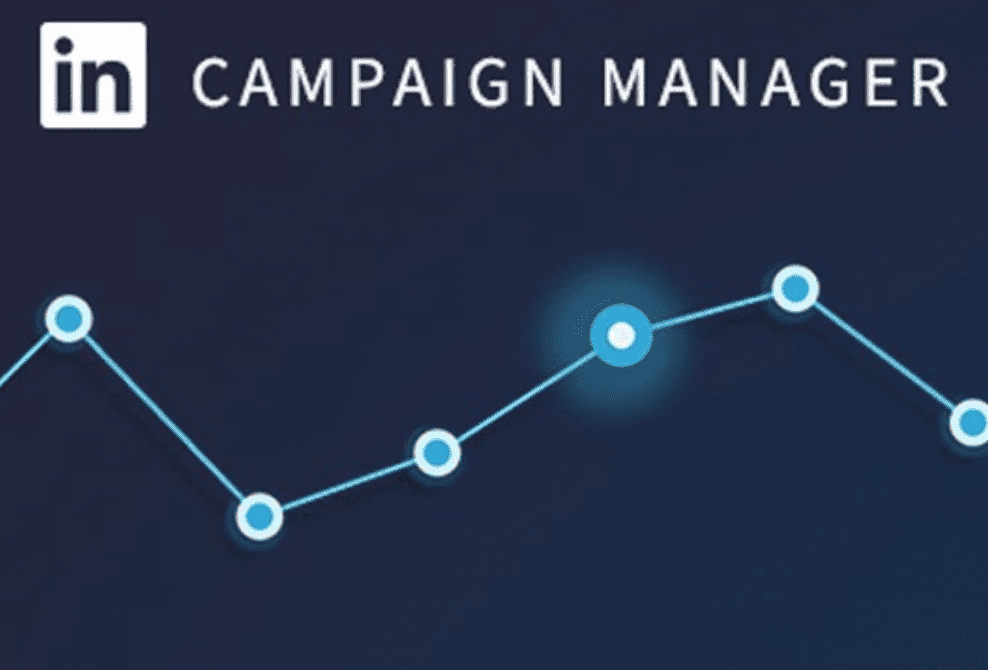 20th July 2022
No Comments
1630
LinkedIn releases new tools for us to use often. As LinkedIn tends not to announce updates, you will not have seen these new tools and started to get the benefits in your LinkedIn marketing. Let's dive into the new Linkedin Campaign Manager feature that rolled out a few weeks ago. Is this new LinkedIn feature a game changer for your LinkedIn marketing or just another shiny new object? How can you use the new Campaign Manager in your marketing and LinkedIn Lead Generation?
About the new Campaign Manager
I have just seen LinkedIn Campaign Manager for the first time today after weeks of waiting impatiently to see how it would look. I have already signed my clients' LinkedIn accounts to my Campaign Manager, so I can tell you what it looks like, how it works, and what you can do with it.
LinkedIn says: "We built Campaign Manager with you, our B2B customers, to help you maximise efficiencies, so you can create and execute engaging campaigns that cut through a crowded market with no added cost"
Accessing LinkedIn Campaign Manager
You can't access the Campaign Manager via your LinkedIn profile. Instead, you start LinkedIn Campaign Manager on a separate page altogether!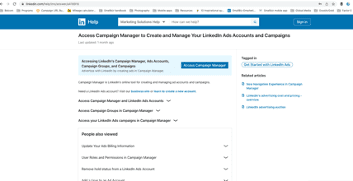 You have to log in to your Campaign Manager link. You can access Campaign Manager as the 'agency with multiple LinkedIn Company Pages or as a business that wants to give access to your agency. There are also different ways to approach the new LinkedIn Campaign Manager if you or your client have previously run LinkedIn Ads. Don't worry if this is your first time looking at LinkedIn Ads. Getting your LinkedIn accounts on Campaign Manager is still relatively simple, as you will see below.

For Clients with an Existing LinkedIn Ads Account
To add a user to your ads account:
Near the top right of the account page, click the Settings icon next to the account name and select manage access from the dropdown.
When you give a member access to your ads account, you'll need to assign them a role.
If you have ever advertised or run sponsored posts on LinkedIn before, you will already have an Ad account on LinkedIn that you can assign to the new LinkedIn Campaign Manager. Otherwise, you will have to create an Ad account to start accessing Campaign Manager.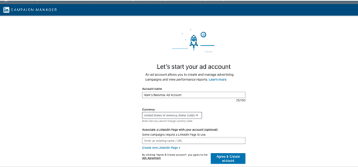 Your Campaign Manager account is a place to manage your Linkedin Ads Account in one place instead of logging into several Linkedin accounts tediously. You can add users like marketers like Global.Media whom you want to give access to manage your LinkedIn Ads and sponsored posts for you.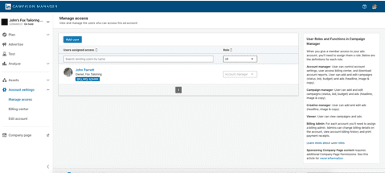 Granting someone page roles
There is a menu box on the left-hand side of the Campaign Manager Screen. From there, you can choose Account Settings, then Manage access and then Add New User.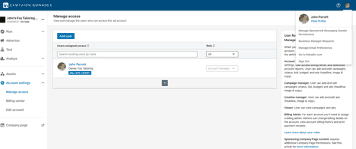 User Roles and Functions in Campaign Manager
When you give a LinkedIn user access to your LinkedIn Ads account, you'll need to assign them a role and provide them access to your Company Page. Below are the definitions for each position:
Account manager: This role gives users as full access to your LinkedIn Ads account as possible. The Account Manager can add and edit campaigns (status, bid, budget) and Ads (headline, image & copy). So the user can control Account Settings, access Billing Center, and download Account Reports.
Campaign manager: The user can add and edit campaigns (status, bid, budget) and ads (headline, image & copy).
Creative Manager: The user can add and edit your Linkedin Ads (headline, image & copy).
Viewer: This is the lowest level of access you can give users as it only allows the person to view campaigns and Ads. They cannot make any changes.
Billing Admin: You'll need to assign a Billing Admin for each account. Admins can change billing details on the LinkedIn account, view your account billing history and print your payment receipts.
You can learn more about user roles in LinkedIn Campaign Manager here.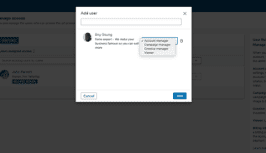 When you type the person's LinkedIn account name (user email), they should appear in the search box, or you can choose the right person's account from the list that pops up. Just one more click and the person you have given the role access to will appear in your account, like a team member, depending on the part you give them.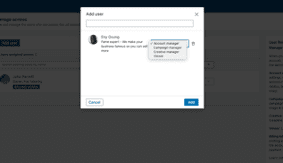 I think I am pleased with any feature like LinkedIn Campaign Manager that gives me the ability to manage my clients' LinkedIn accounts from one central location. If you work with more than one LinkedIn account, I guess you may also be happy to get an easier life? Let's look more at Campaign Manager before you make up your mind.
What can we make of the features?
It is worth noting that the new Campaign Manager gives people access to your LinkedIn Company Page account to manage LinkedIn Ads and Sponsored Content only.
Marketers like our clients and me will be happy that LinkedIn finally admits that someone can manage another LinkedIn user's account – albeit the Company Page.
It is certainly helpful to see and manage my clients' accounts from one dashboard on my LinkedIn Campaign Manager instead of having to log in and out of each account individually.

It is slightly annoying that adding someone to your new Campaign Manager does not mean they will appear on your LinkedIn profile.
A previous LinkedIn update allowed you to grant people access to be Account Admins on your LinkedIn Company Page who can post and manage content and comments on your LinkedIn Company Page and export LinkedIn analytics reports.
When a client assigns you as an Account Admin, their Company page will show up on your list of pages on your LinkedIn profile, just like all of the Company Pages you can access.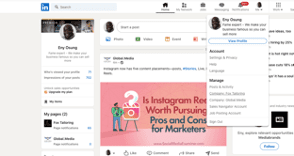 I see the new Campaign Manager as a tacit admission by LinkedIn that there is no harm in allowing someone else to access and manage your LinkedIn account. Up until now, LinkedIn users had the fear that LinkedIn would sanction their account if someone on another location accessed the account. I remember several of my clients' accounts getting flagged not long ago for that reason – LinkedIn got upset that someone had their login details and would advise them to change their passwords. Agencies like us at Global.Media often received a message telling us off for our wrongdoing with threats to be blocked or, worse, put in LinkedIn jail if we did not desist from login into other people's accounts.
And like 'good little boys, we had to promise never to do it again. We just carried on as usual and ignored LinkedIn's idle threats. Those issues are now behind us with the new Campaign Manager.
Why should you care about the new LinkedIn Campaign Manager?
Who doesn't love new features on their favourite social media network? After all, we love new shiny things that they tell us will improve our experience and results on LinkedIn. Here are some reasons to be cautious about rejoicing that the new Campaign Manager will transform your LinkedIn marketing and lead generation
A centralised Business Manager is certainly not unique to LinkedIn. Google has always had a Business Manager managing Google My Business and Ads accounts. Meta introduced their Facebook Business Manager long ago to make managing different accounts easier without going through the client's personal Facebook profile login. Arguably, LinkedIn is simply following the trend as always and is trying to maximise its advertising revenue by making it easier for us to increase our Ad spend (which is natural given that they are a business, after all).
There is a case for saying that LinkedIn now focuses on Ads. I could be wrong, but time will tell. Making it easier to do LinkedIn Ads is further evidence that the organic features we have come to love and benefit from on LinkedIn (searching for, finding and connecting with your target audience) won't work as well in future on FREE LinkedIn.
I question whether LinkedIn is neglecting its primary function? LinkedIn is unrivalled when it provides a level playing field for us to connect with decision-makers in companies with whom we can do business. I see Linkedin ads on Facebook, Twitter, Google News and even on my newspaper app that sell how LinkedIn speeds the journey to reach decision-makers.
So why not make it easier for us to connect with people in our target market organically? I can't help but smell something rotten when LinkedIn rolls out Campaign Manager to get easier access to create and manage LinkedIn Ads while strangling the about to connect with your target audience. If you can use the new Campaign Manager to get more leads without blowing a fortune on LinkedIn Ads, I would love to hear from you because that excites me as a lead generation person!
I certainly have no plans to start running LinkedIn Ads for Global.Media or for my clients because the cost per click of LinkedIn Ads is so damn expensive.
Beware shiny new tools
Very few 'new' tools and features online platforms roll out are innovative, unique, and never before seen. The functionalities often exist somewhere. So, you must answer whether a tool like Campaign Manager is something you must start using today? If all you're doing is jumping on the LinkedIn new tools bandwagon because you see this latest development as a quick 'hack' to get your name in front of your connections and followers, then good luck. However, you can't ignore that with most new platforms and features, new tools will likely be filled with hidden frailties, bugs, and UX design flaws at roll-out.
We early adopters are essentially the guinea pigs for LinkedIn's tests to find out what works, what's not, and how to make their new tools work better. It is not until the second or third versions that any new feature/tool is fully workable and functional.
Bringing it all together
I believe the new Campaign Manager can help marketers manage multiple LinkedIn Company Pages accounts more quickly if you run LinkedIn Ads to get prospects. So, you may find that you can get the best use out of LinkedIn Campaign Manager in the coming months or years. Like any new tool, I will always caution users to expect glitches and bugs that LinkedIn should be working to iron out.
Other posts you will enjoy:
********************************************************************************
smallbiz-emarketing provides expert market research, marketing on all digital platforms and offline advertising consultancy specifically for small businesses and start-ups for whom money is tight. Check out our Services page to see how our digital marketing services can help your business to get more customers and sell more, faster. Why not sign up for our FREE monthly newsletter using the simple form in the Footer? You can also follow us on social networks. Finally, we'd love for you to share this post with your network using the share buttons below.
********************************************************************************
We'd love to have your feedback and suggestions about this post. What are your experiences of using the new LinkedIn Campaign Manager for your business? Please leave your comments in the Comments Section below.
Recommended Posts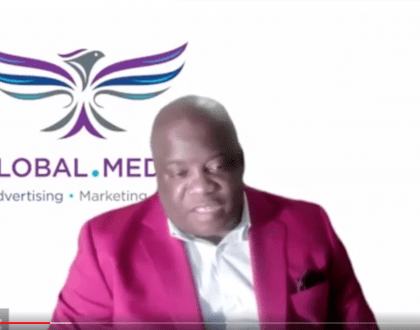 9th December 2022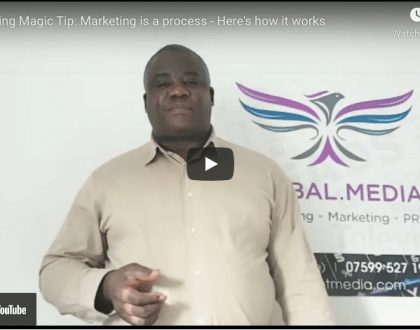 25th January 2022
Privacy Overview
This website uses cookies so that we can provide you with the best user experience possible. Cookie information is stored in your browser and performs functions such as recognising you when you return to our website and helping our team to understand which sections of the website you find most interesting and useful.