---
Why A Positive Mindset Matters in LinkedIn Lead Generation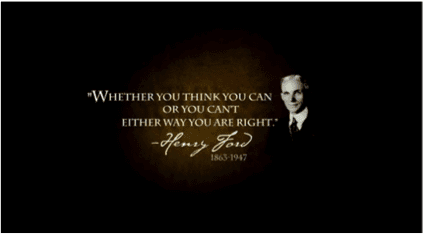 6th October 2019
No Comments
217
Modern sales techniques have changed, and LinkedIn allows you to connect directly with and gather information on companies and prospects, as well as developing relationships and contacting decision-makers directly. "Whether You Think You Can, or Think You Can't… You're Right" is a well-known quote by Henry Ford. It means you yourself determine your own success or failure. Moreover, if you think you can't, this negative thinking will lead you towards failure. In other words, it will be a self-prophecy. I have met many people who are afraid to use the 'cold messaging' that LinkedIn Lead Generation offers to get connections and clients. The anxiety is particularly high when their target market is decision-makers in larger organisations or 'notable business people'. While it is understandable to worry about whether prominent business people will engage with little old you, this post highlights the importance of having a positive mindset in your LinkedIn lead generation campaign as your psyche could make the difference between achieving your objectives to build the right relationships for your company or missing out on the fantastic potential that LinkedIn offers.
Understanding Mindset
Collins dictionary states that a person's Mindset "refers to their general attitudes and the way they typically think about things".
I am as surprised as the next person when a marketing strategy does not get the results we expect. Often, the marketing method that has brought significant revenues for one client fails miserably on another client's campaign. There are so many things that can derail a marketing campaign despite one's best efforts. A common theme in almost all of our less-than-successful campaigns is negative thinking either on the part of the client or in our team. Not all business relationships are full of the happiness and joy we hope for when we start work with a new client. We occasionally fall out with clients for whatever reason, and I am always shocked when the marketing results subsequently fall off the cliff either just after an adverse incident or in the lead up to stopping working with them. The tail off in marketing results is not a consequence of doing anything different than in the happier days as we rigidly adhere to our processes and pride ourselves on putting in the same effort on day one to the last day a client works with us.
The impact of negative thinking is clear, even if it is anecdotal. Here are three such evidence cases:
An interiors company signed on with us 15 months ago. As always, they duly paid the first invoice as we require before we start doing any marketing. To date, this remains the only construction-related client for whom we have not generated leads, a fact that still wrangles with me. My accountant recently informed me that the client was bad-minded and never paid the invoice. When the owner called and messaged us to say that they had settled the invoice and they wanted us to start their work, so we believed we had received their payment. We had mistaken a fee for a similar amount of money on our bank statement as this client's payment.
We worked with a telecoms business who was looking to connect with companies who are in the process of planning to relocate the business to new premises. The owner (our client) was very cynical about the potential of digital marketing to help them to connect with prospects. Although he paid our invoice, he was not shy about expressing his reservations about LinkedIn marketing and everything digital at every opportunity. While we generated a handful of prospects on LinkedIn, most of the enquiries turned out to be job seekers or people looking to sell their services.
We designed Facebook ads for a recruitment agency client who wanted to publicise a nursery nurse vacancy to a targeted audience. We created a Facebook retargeting ads campaign to achieve their objectives. While got a significant number of clicks from potential candidates, no one applied for the vacancy. The business owner later told us that he did not want to pay for the ads in the first place as he did not believe Facebook ads are useful.
These mini case studies, and many more that I could describe highlight how a negative mindset filled with dubious thinking about marketing campaigns typically leads to failure to achieve clients' marketing objectives. I find similar negative thinking plays a part in the chances of achieving success in especially in LinkedIn Lead Generation campaigns as you will find out in the following section.
Fears in doing LinkedIn Lead Generation
It is natural to be anxious, perhaps nervous when doing something challenging. Something that we may not have done before or something that could be worth substantial amounts of money can be scary. The reality is that lead generation with high-value potential clients on LinkedIn is all of these. I see the effects at one extreme where marketers and business people talk themselves out of even trying to use LinkedIn to target bigger businesses; they typically convince themselves that the good and the great will find their approach offensive, resulting in damage to one's brand. The only result that this mindset can achieve is a failure with zero chance of making your business objectives. At the other extreme, I see people who believe that the great and the good are somehow super-human and too far beyond reach. These businesses and marketers lower their targets. Instead, they go for decision-makers in smaller enterprises or freelancers whom they assume are more reachable. These negative though negative patterns characterised by fears that you will not succeed in your LinkedIn lead generation campaign are likely to result in failure or at the very best, severely reduced chances of achieving your goals by making the right connections that could lead to higher-value sales.
Positivity pays in LinkedIn Lead Generation
There is much to be had if you are positive and tell yourself that these people you are targeting are people, albeit in important decision-making positions. Moreover, as long as you have an offering that you believe can be of value to your target audience, then go ahead and invite them to connect with you. It is probably true that the bosses of mega giants like Ferrari or Tesco will likely not respond to your invitation – you are never going to get everyone you invite to connect with you all accept your invitation request. Less than 100% connection request acceptance is true of any target group you approach on LinkedIn. However, a good number of businesses leaders will connect with you if you contact them professionally and courteously. If you never try to communicate with them, then you will never know.
A positive approach to LinkedIn Lead Generation proves to have transformative effects on the results our clients get. Here is an example of a positive mindset in action. A recently-signed on a client, an all-female decorating business who has been trading for three months accepted my invitation to connect and after a chat, agreed to try our LinkedIn services to connect with more prominent contractors in their locality. She wants larger contracts with more established contractors so that she can increase their revenue and achieve growth. It was refreshing to receive messages of pure excitement including "I can't wait to get started and for the phone to start ringing". Even I am surprised that to get a phone call after the first four days of doing their Lead Generation in which the owner told me that she has already got two contract jobs starting on Monday and three more quotations to do for big jobs. These are on top of several phone calls and requests to send emails giving information about their services. My client is already looking into taking on more staff to meet the demand that our LinkedIn marketing has brought. Fantastic results that are typical of our clients who have a positive approach and attitude to LinkedIn Lead Generation.
LinkedIn lead generation process matters
A positive attitude alone will not help you to build relationships that potentially lead to new business. Magic happens when you combine a success mindset with doing the right things. When people accept your connection request, follow up and be confident about your offering to communicate it if it is appropriate. With a positive mindset, you can believe that you are worthy of your target business leaders wanting to build professional relationships with you. The graphic above illustrates the way belief leads to the results you want as taking the right steps reinforce your belief in the process while increasing your knowledge of what works. Positive belief, in short, is a virtuous cycle. In the same way, the reverse is the vicious cycle that accompanies negative belief.
Just like you wouldn't whip out your bank cards to make a purchase as soon as someone greets you on the street, you cannot expect people you meet on LinkedIn to immediately get their wallets out to buy your products and services. Focus on building relationships instead of making a sale – the foundations of any relationship that works for mutual benefit is understanding the other person's circumstances and the issues they are facing, and then offering your help to resolve their pain points. Your goal in any marketing endeavour is to get potential clients to know-like and trust you, as that is what leads to being interested in your offerings, and then enquiries when the time is right.
Resilience in successful marketing
The most successful entrepreneurs and marketers are unique in being able to accept plenty of rejection, and no's without losing enthusiasm while they pursue their objectives. Personal resilience gives us a competitive advantage in all types of marketing and is a skill that we can develop. Furthermore, resilience increases well-being, happiness, productivity and success in both our professional and personal lives.
As a marketer, I reassure myself that every 'no thanks' is one step nearer to getting a client. I always thank connections who reject my offer of a conversation on LinkedIn as I genuinely appreciate their taking the time to connect with me and respond to my messages. Also, would you believe that more than once, a cheerful response to rejection has turned 'not interested' connections into prospects? Well, it has done for our clients and us.
There is more to resilience than blind optimism though. Being secure in your approach requires that you develop a transparent LinkedIn Lead Generation process so that you can be sure you are doing the right things every time. Being professional in your approach to every person you interact with is a crucial element of a decent process. A good LinkedIn Lead Generation process is not set in stone, however. One must be open to reviewing and learning from our experiences so that you can identify areas for improvement that will take you nearer to your objectives. It is also crucial not to base your process on the responses or views of one person. Instead, listen to a representative sample of people to forge a path to your goal. Furthermore, continuous learning from what other practitioners are doing can help the learning process.
Bringing it all together
LinkedIn has the potential to generate new and repeat business for your business regardless of your target market and business sector. No matter the job title of your ideal prospects, you can find them on LinkedIn if you follow the right processes. I have found that what goes on in your head has as much effect on whether you achieve your prospecting objectives on the unique LinkedIn Lead Generation platform; businesses and marketers can literarily think your way to success or lack off on LinkedIn. With a positive mindset, you vastly increase the chances of achieving your business revenue goals when doing LinkedIn Lead Generation. The reverse is also true – that many people talk themselves into missing out on the benefits that LinkedIn can bring to your prospecting. Indeed, whether you think you can or you can't, you are probably right.
*********************************************************************************************************************
Global.Media provides expert online and offline advertising, and marketing on all digital platforms to get qualified leads for businesses. Check out our Services page to see how our advertising and marketing services can help your business to get more customers and sell more, faster. Why not sign up for our newsletter using the simple form on the right? You can also follow us on social networks. Finally, we'd love for you to share this post with your network using the share buttons below.
********************************************************************************************************************
We'd love to have your feedback and suggestions about this post. What strategies do you use to get the right connections on LinkedIn? How has your thinking influenced the results you achieve on LinkedIn marketing? Please leave your comments in the Comments Section below.
Other posts you may like
–
Our Digital Marketing Services:
Website Design | Search Engine Optimisation (SEO)| LinkedIn Marketing | Content Marketing| Email Marketing| Pay-Per- Click| Social Media Marketing|   App Development & Marketing| Business podcasts | Video marketing
HOME | ABOUT  | MaAD BLOG | PODCASTS | TESTIMONIALS
Download Our Mobile App to listen to our podcasts on the go 
Get Mobile App