---
Benefits of Business Networking: 8 Strategies to get them – Marketing Magic Tips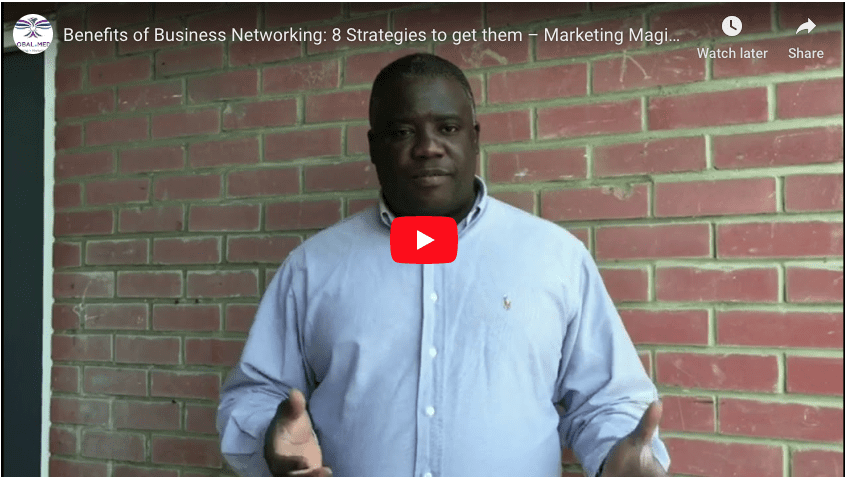 Networking brings people from different organisations together to share ideas, build relationships and do business with each other. We network with plenty of people every day with almost every one increasingly doing social media networking. Whether you are building relationships online or offline, the principles are essentially the same if you want to get maximum benefits for your business. Lots of people network up and down the country. Unfortunately not everyone achieves the benefits networking can bring to you to your business. If you are new to networking or if you are a seasoned networker who wants to sell more to your fellow networkers, you are in the right place. This Marketing Magic Tips video blog shines the light on business networking and why it works for so many companies. You will also learn real-world strategies to get the most from networking events.
Understanding Networking
Business networking is usually face-to-face, which usually means going to networking events, meetings, get-togethers, and mixers. Some networking groups meet weekly for example, Business Network International (BNI). There also networking groups like Cornish Partnerships that often meet several times a day and several days a week.
Networking groups also differ with regards to how they operate and what is expected of you as a networker. So you my be expected to do a brief presentation about your business at the event, whereas others are more informal and you can just arrive and mingle. You will typically meet business owners and managers at networking events. That said, you are increasingly just as likely to meet sales people as businesses appreciate the benefits networking can bring.
BNI Founder Ivan Misner describes 5 types of networking groups as follows:
Casual contact networks – general business groups that allow many people from various overlapping professions.
Strong contact networks – in which members exchange business referrals and client introductions.
Community service clubs – aimed at giving time and effort to civic causes.
Professional associations – members tend to be from one specific type of industry. The primary purpose is to exchange information and ideas.
Social networking– connecting with people using online platforms. There are more than 200 social networks inexistence including the global leaders, Facebook, Instagram, LinkedIn and Twitter.
Your goal in tapping into such networks is to join groups that contain your potential clients or target markets. There are many groups you can join in your local area so it is important to try several and find the right one for you.
Reasons networking works
You want your clients to find out about you hence you should market about yourself and your expertise as much as possible. You may be surprised to learn that even in the digital marketplace, more than half of UK consumers (55%) preferring to buy local brands to help support local and small producers. For many businesses, our potential clients are in local networking groups. This is perhaps the biggest reason that every type of business engages in networking today. Let's look at how networking turbo charges the client acquisition process in invaluable ways.
People do business with people'. Moreover, we buy from people whom we know like and trust. Face-to-face networking is by far the fastest way to build relationships that involve real conversations. From experience, few do business with people with whom you have not spoken. Having a conversation plays such as huge role in building credibility and convincing potential clients that we are interested in their issues, and that we are able to deliver the solutions they require.
I have met people who bemoan the prospect of meeting the same people at networking events; they prefer to go to different groups and meet new people. I liken the 'always new' approach to the folly of a business constantly seeking new clients when in fact, your existing and previous clients know most about your services. Existing customers are more likely to buy more from you and are easier to sell to as they are familiar with your business and how you work.
Similarly, in networking meeting the same people several times breeds familiarity and trust with you and your business. Yes, it would be fantastic if every potential client bought from us within minutes of meeting us. However, in the real world, most people want to be sure, to be convinced that you do what you say you can do. Moreover, On average, it takes approximately five to seven touch points to close a sale. This number probably explains why most people are unlikely to buy from you at your first networking event. However further events and interaction often make all of the difference.
Similarities between Traditional & Online Networking
Face-to face networking has many similarities to social networking not least because we are trying to get more clients in both. Often many of the factors that make networking successful apply in both online networking and traditional networking. In essence, networking is networking regardless of the medium, as you need much of the same skills to make the sale. This reality is what makes face-to-face networking crucial even in today's digital marketplace. Let's examine some of the areas of similarities
Talking to everyone doesn't work. You see this everyday on every social media platforms where people post incessantly about how great their business is – no one hears you if your services are not relevant to their circumstances. In a networking context, many try to cram everything into a networking event when they try to tell as many people as possible about their 'amazing' services – this is always a mistake as everyone has a limited amount of time and attention.
Just like in social networking you want to get to know people and vice versa and build relationships and credibility before sales are going to start flowing in. Many will tell you how networking has not worked for them for one reason or another. I can tell you unequivocally, networking always works. So it is more likely that those who don't get results have most likely not done the work. Worst still, many sabotage their changes of getting clients when networking, often without realising it.
The importance of talking with potential clients is another area of similarity that works in both traditional and online networking. Too often people appear happy to communicate with potential clients via their faceless comments and messaging. Although such strategies may work well for some retailers, they are less effective when selling high value business services. Taking the conversation offline and having real conversations is essential to converting prospects into paying clients. Traditional networking speeds up the selling process by facilitating the face-to-face conversations with people who are interested in your products and services.
Thousands of words have been written about how to get the biggest bang for their networking buck and time. Sadly most of the advice available is generic and bland. No one wants generic advice. Instead you need golden nuggets that work in the real world. Take a look at some of the ways I use to get clients at networking events.
8 Real World Networking Strategies
Less is more

: I typically aim to have one good conversation at each networking event because I believe it is better to be memorable to someone than be instantly forgettable to 20. You can't talk to everyone and not everyone wants to talk to you in any case. Be ecstatic if you make three to four good connections in any one event.

Follow-up to build relationships

I do my best to arrange follow up meetings post networking event so that I can find out more about the other person's services and vice versa, and we can then explore opportunities to work together if it is appropriate. The one-to-ones mean I am well known around the local coffee shops. I do all of my business, both buying and selling, in the one-to-one meetings.

Buy and Sell

If you see networking as a one way sales process in which you only prepare for people to buy your services, you are guaranteed to come away disappointed. I meet most of my suppliers at networking events because I am prepared to buy from members as well as looking to attract clients. A fellow networker once advised me that I should work out the most influential person in the room – the connector (Hint: it is not always the groups leader) and aim to build a relationship with them. After all the connector is more likely to speak positively about you to others (in and outside the network) if they like you. Finding out about their services or being their client is perhaps the fastest way to build friendships.

Your pitch is not the be-all and end-all

Trust me I am god-awful at talking about my business in 40 seconds, or even 1 minute, because there is so much I want to say. Furthermore I have a laid back style so I talk slowly and in a low pitch. Add to that the fact that I can't tell jokes to groups and that I often forget the words that I have practiced, you should have a good idea of why I find the pitch uncomfortable. Despite my limitations in this regard I still regularly get clients at networking events. I just try to get through the chore and then hurry to the open networking conversations to start building relationships.
Here are some ways to make what you say in your pitch work for your business:
Focus on talking about what makes you unique; find a niche because that is what will get people interested in what you do, especially if they require that service. My niche is LinkedIn Lead Generation with guaranteed results or your money back' – something no one else I have ever met in networking does. As more people increasingly realise that LinkedIn is the most direct and cost-effective marketing method of connecting with prospects and having sales-focused conversation, I get the attention I want regardless of my pitch.
Tell stories about people you help and the difference you make. By talking about the number of leads we generated for a client, the value of the sale we brought for a client or a testimonial we received, people are more receptive than if we spoke about the features and benefits of our services. Where possible talk about a local client because the people in the room are more likely to relate to the fantastic experiences of someone they know and hopefully like.
Talk up someone else's in the room's services in your pitch. Networkers are likely to respond to your generosity by talking positively about your services. People are going to take more notice of a happy customer waxing lyrical about you than your crowing about your achievements.
Have a client do your pitch for the same reason as above. You can plan to swap scripts before the meeting and prepare what you are going to say. Instead of just waffling about them, find out the key features of their services that they want you to mention and then speak from personal experience/unscripted about their service. The presentation swap provides a great opportunity to sit with a fellow networker and be genuinely interested in their work and vice versa. In 85 % of the of the people I have done presentation -swaps with, we have gone on to work together.
Treasure your business cards and don't be a business card collector

One of the biggest mistakes people make when networking is thinking that it's just about running around the room collecting as many business cards as possible. You don't want to be one of those networkers whose business cards ends up in the abyss that people put the many cards they pick up at networking events. The fact is that you are only likely to get a call from people with whom you have spoken and they have asked for your business card. These are also the people with whom you are likely to want to have a follow up conversation Everyone else is most likely to ignore your card. So avoid putting your cards on the table, including the 'bumpf table'. And definitely don't run around the event 'chucking' your cards at everyone. Only give your card to people who request it and with whom you believe you can work.

Be interested not just interesting

Make good notes of everyone's presentation. Write down their name and what they do. This is the biggest visible evidence that you care about who they are and their services. Chances are you won't ever look at the notes after the event. However, you should look at your notes at the event and mark out the people you want to have a chat with because you could work together. Then do your best to remember their name and what they do as you approach them to have a conversation. We love to know that someone has listened to us and what we do is of interest to them. More importantly, name-dropping is the biggest compliment you can give someone you have only just met.

Avoid the mass email out to attendees

I know there will be someone who has got results from doing a post-networking event mail out. In truth, most people don't even look at emails from people they have been networking with because they are ALL likely to be sales pitches. I come back to my point about focusing on the people you actually spoke with at the event, as they are more likely to be interested in talking more with you.

Join the group

Networkers are a loyal bunch who like to help each other and their group. That's is another way of saying that they are more likely to buy from members than non- members. While networking groups love visitors, the members are actively or subtly discouraged from doing business with new people until they join the group – until you become 'one of us'. Don't be surprised to hear many positive comments that look like potential business while in the process of thinking about joining. Few are likely to become paying clients until you are actually a fully paid-up member.
Bringing it all together
Networking online and offline should be part of your marketing strategy because it is a great way to get new clients and build your business. As anyone who spends time networking will tell you, making sales does not happen straight away, nor does it happen by accident. Those who get the best results play the long game, are seen as good networkers and learn what it takes to get the return on investment on their networking outlay. Most importantly, they focus on building relationships and helping other members. After all as the BNI mantra tells us: Givers Gain!
*********************************************************************************************************************
Global.Media provides expert online and offline advertising, and marketing on all digital platforms to get qualified leads for businesses. Check out our Services page to see how our advertising and marketing services can help your business to get more customers and sell more, faster. Why not sign up for our newsletter using the simple form on the right? You can also follow us on social networks. Finally, we'd love for you to share this post with your network using the share buttons below.
********************************************************************************************************************
We'd love to have your feedback and suggestions about this post. What is your experience of doing business networking? Which strategies have helped or hindered your results from networking events? Please leave your comments in the Comments Section below.
Other posts you may like
–
Our Digital Marketing Services:
Website Design | Search Engine Optimisation (SEO)| LinkedIn Marketing | Content Marketing| Email Marketing| Pay-Per- Click| Social Media Marketing|   App Development & Marketing| Business podcasts | Video marketing
HOME | ABOUT  | MaAD BLOG | PODCASTS | TESTIMONIALS
Download Our Mobile App to listen to our podcasts on the go 
Get Mobile App